New Filmoplast STRONG
Filmoplast Strong offers a new solution to the industrial embroiderer.
It compliments the existing Filmoplast product. As the name suggests it is a stronger version of the self-adhesive embroidery stabilizer having a strength of 95g/m² against the 50g/m² of Filmoplast. The Filmoplast Strong is hooped in the frame.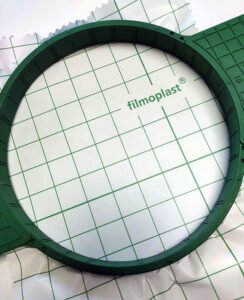 Next, score into the grid and peel off the release paper to reveal the adhesive stabilizer.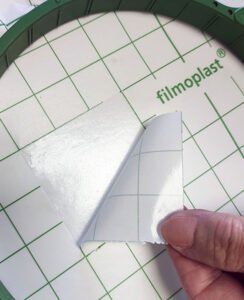 The item to be embroidered is then pressed down onto this and will be held in position whilst stitching occurs.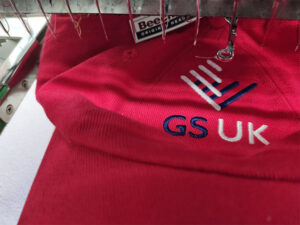 Filmoplast Strong offers significantly more hold during the embroidery process and is specially designed for stretchy or heavier weight fabrics. Once the embroidery is completed, carefully peel off the embroidered item.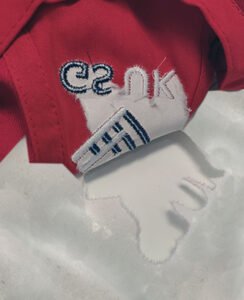 It is possible to cover the hole left with a remnant piece of Filmoplast Strong that is slightly larger than the hole. Make sure to apply the remnant piece from the top, then peel off the gridded release paper and apply the next item to be embroidered.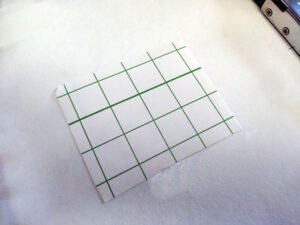 Filmoplast Strong is available in white and as 25m rolls in various widths.
Filmoplast Strong & Filmoplast have further applications, including stabilizing stretch fabrics e.g. T-shirts, polo shirts, materials containing elastane. They are ideal for embroidering on items that are difficult to hoop e.g. trouser and shirt pockets, collars, cuffs, ribbons, belts and also thick items like horse blankets, etc. They also offer a solution for embroidering delicate fabrics where frame marks are unwanted, e.g. velvet, fleece, or dark fabric types, they can also be used for the non-heat bonding of light to heavyweight fabrics.
The complete Filmoplast range can be purchased and an info. sheet downloaded via our Supplies & Consumables webshop www.gs-ukdirect.com or call Sales: 0115 8448000.